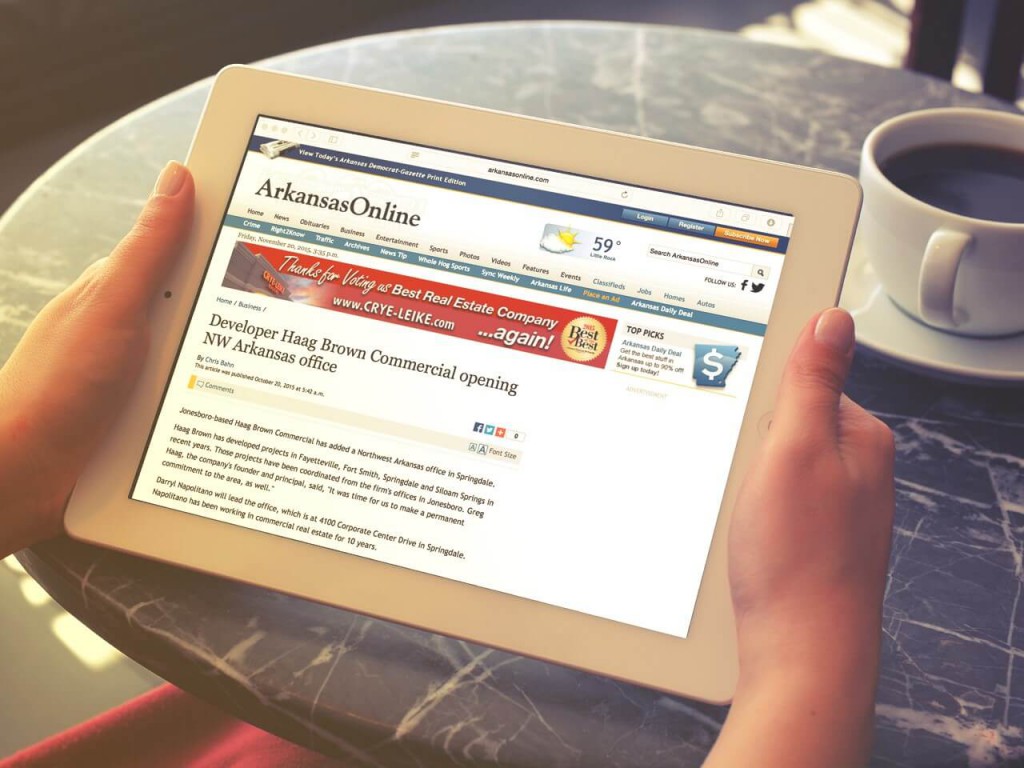 Developer Haag Brown Commercial opening NW Arkansas office
By Chris Bahn
This article was published October 20, 2015 at 5:42 a.m.
Jonesboro-based Haag Brown Commercial has added a Northwest Arkansas office in Springdale.
Haag Brown has developed projects in Fayetteville, Fort Smith, Springdale and Siloam Springs in recent years. Those projects have been coordinated from the firm's offices in Jonesboro. Greg Haag, the company's founder and principal, said, "It was time for us to make a permanent commitment to the area, as well."
Darryl Napolitano will lead the office, which is at 4100 Corporate Center Drive in Springdale. Napolitano has been working in commercial real estate for 10 years.
Helping drive projects in Northwest Arkansas are the firm's relationships with Arkansas Dentistry and Furniture Factory Outlet, which have headquarters in the region. Haag and principal Josh Brown said they believe an office in Northwest Arkansas can lead to opportunities in the region, in Tulsa and in Springfield, Mo.
Haag Brown was established in Jonesboro in 2010. Since then, it has been a catalyst for retail and restaurant development in northeast Arkansas, including the addition of about 2,500 restaurant seats.
"We have known for two years that we needed a presence in Northwest Arkansas, but we just did not have the right person to lead that effort," Brown said. "That is why we are so blessed to welcome Darryl to our team."
This Article can be viewed at http://www.arkansasonline.com/news/2015/oct/20/developer-opening-nw-arkansas-office-ex/?f=business