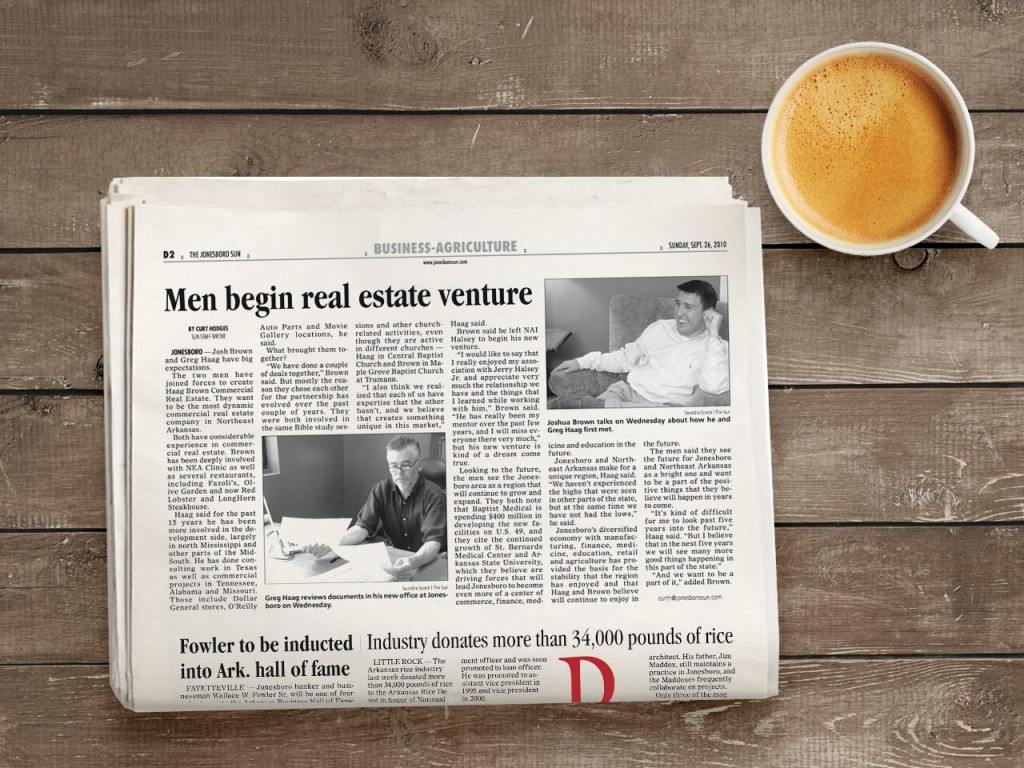 Josh Brown and Greg Haag have big expectations.
The two men have joined forces to create Haag Brown Commercial Real Estate. They want to be the most dynamic commercial real estate company in Northeast Arkansas.
Both have considerable experience in commercial real estate. Brown has been deeply involved with NEA Clinic as well as several restaurants, including Fazoli's, Olive Garden and now Red Lobster and LongHorn Steakhouse.
Haag said for the past 15 years he has been more involved in the development side, largely in north Mississippi and other parts of the MidSouth. He has done consulting work in Texas as well as commercial projects in Tennessee, Alabama and Missouri. Those include Dollar General stores, O'Reilly Auto Parts and Movie Gallery locations, he said.
What brought them together?
"We have done a couple of deals together," Brown said. But mostly the reason they chose each other for the partnership has evolved over the past couple of years. They were both involved in the same Bible study sessions and other church related activities, even though they are active in different churches. Haag in Central Baptist Church and Brown in Maple Grove Baptist Church in Trumann.
"I also think we realized that each of us have expertise that the other hasn't, and we believe that creates something unique in this market," Haag said.
Brown said he left NAI Halsey to begin his new venture.
"I would like to say that I really enjoyed my association with Jerry Halsey Jr. and appreciate very much the relationship we have and the things that I learned while working with him," Brown said. "He has really been my mentor over the past few years, and I will miss everyone there very much." but his new venture is kind of a dream come true.
Looking to the future, the men see the Jonesboro area as a region that will continue to grow and expand. They both note that Baptist Medical is spending $400 million in developing the new facilities on U.S. 49, and they cite the continued growth of St. Bernards Medical Center and Arkansas State University, which they believe are driving forces that will lead Jonesboro to become even more of a center of commerce, finance, medicine and education in the future.
Jonesboro and Northeast Arkansas make for a unique region, Haag said. "We haven't experienced the highs that were seen in other parts of the state, but at the same time we have not had the lows," he said.
Jonesboro's diversified economy with manufacturing, finance, medicine, education, retail and agriculture has provided the basis for the stability that the region has enjoyed and that Haag and Brown believe will continue to enjoy in the future.
The men said they see the future for Jonesboro and Northeast Arkansas as a bright one and want to be a part of the positive things that they believe will happen in years to come.
"It's kind of difficult for me to look past five years into the future," Haag said. "But I believe that in the next five years we will see many more good things happening in this part of the state."

"And we want to be a part of it," added Brown.
by Curt Hodges on September 26, 2010